Keyword: Mike Collier
August 22, 2018
|
This post will be updated regularly to reflect the release of new public polls.
Most recent update: 10/17/18
October 22, 2014
|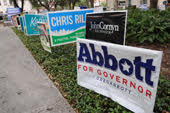 The October 2014 University of Texas/Texas Tribune Poll found Republican candidates favored over Democratic candidates by substantial margins in several statewide general election contests, with the Republican gubernatorial candidate, Attorney General Greg Abbott, leading the Democratic candidate, state Senator Wendy Davis of Fort Worth, by a 16-point margin, 54 percent to 38 percent. Six percent of likely voters chose Libertarian candidate Kathie Glass, and Green Candidate Brandon Parmer was the choice of 2 percent.