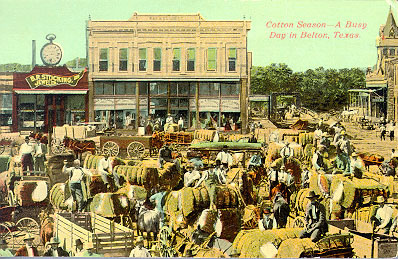 From independence to early statehood the Texas population continued to swell, exceeding 212,000 inhabitants (154,034 whites, 58,161 slaves, and 397 freed African Americans) in the new state's first U.S. Census in 1850.
Most of the new immigrants came from southern states, especially Tennessee, Virginia and Georgia. Representatives of these three states alone formed a majority in the constitutional convention that produced the state Constitution of 1845. Reflecting the Jacksonian political culture and agricultural economic interests of these settlers, that first state constitution prohibited banking and made the formation of private corporations very difficult.
These southern immigrants also brought with them their preference for and expertise in growing cotton. As cotton was a labor intensive crop, southern immigrants brought increasing numbers of slaves. A census of the state in 1848 reported 42,455 slaves in the state. But just two years later, the U.S. Census of 1850 counted 58,161 slaves.
In the ten years from 1849 to 1859 production of cotton multiplied more than sevenfold, from 58,073 bales (each weighing 500 pounds) to 431,645 bales. As cotton production blossomed, so did slavery – an Anglo American institution that had previously been only tolerated by Mexican authorities, and which was relatively limited at the time of independence. The Census of 1860 showed that sixty-four counties had 1,000 slaves or more, and all but eight of those counties produced 1,000 bales or more.